Villa Dimitra, Lousakies, Kissamos


Half price car hire with this house! This house is unique in its authenticity and will greatly appeal to those who really do want to get away into the peace of the mountains in this beautiful area. Much is written about Agri-tourism and ecologically sustainable tourism, but this can sometimes seem to be counter-productive and contrived. By contrast, this house and the area is absolutely genuine. People live and farm here and go down to the sea and fish from the beaches and harbours just a few kilometres away at both Fallasarna and Kissamos-Kastelli.

Built about 150 years ago this is a typical Cretan stone village house of which only a few really good examples remain. Villa Dimitra is sited in an area of completely genuine Cretan culture - there are no foreign-owned housing estate developments or tourist accommodation anywhere nearby.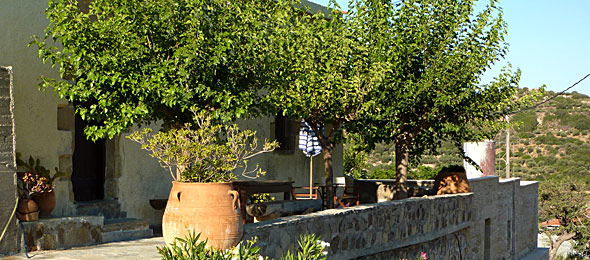 The house has a large south-facing terrace running right across the front of the building with rustic tables and chairs for drinks and meals outside in the clean, fresh mountain air.

The location is away from tourist development of any kind, in a small community in the hill and mountain village area of Lousakies, some five kilometres inland from Kissamos-Kastelli. The house is about the same distance from Crete's finest beach, Fallasarna, to the west along a sometimes narrow, twisting, little-used (but paved) mountain road.


Entering the house, the stone floored hallway has chairs and a sofa bed alongside the huge open fireplace. Turning right into the middle of the building there is a fully equipped kitchen and dining room which has sofa seats around one side of the dining table which can also be used as beds for children or the occasional visitor.


Beyond this living room is a beautifully furnished double bedroom, which leads to the en-suite bathroom and a side door. The whole house is full of genuine historical curios and artefacts from the area and has been carefully restored to retain its original character. There are spectacular hill and mountain views from every door and window and glimpses of the sea from the end of the terrace.

This is a perfect location for walking and hiking in the mountains or, of course, as a base for travelling to the whole of the western end of this beautiful island by car.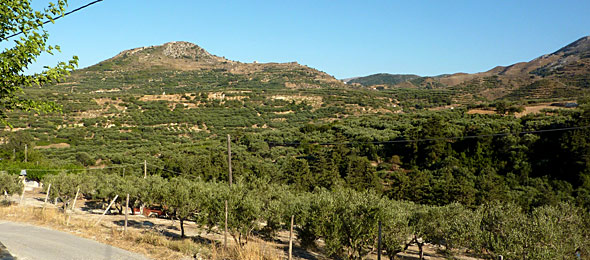 Our rental pricing structure is very straightforward and based on the natural seasons of Winter, Spring, Summer and Autumn. We do not have complicated price bands that maximise prices around school holidays in any particular country. There are no hidden costs or casually mentioned extras as apparent afterthoughts - our prices include electricity, water and local authority charges, all linen, cleaning and immediate food supplies for arrival.

We always offer you the freedom to choose the day of the week when your stay will begin and end and because we don't have weekly 'change-over days' you can rent for as long as you wish and come and go any day of the week – you choose!

Villa Dimitra - Prices per Week
Additional days above a standard week(s) are priced pro-rata – simply divide the weekly price by seven and multiply by your total choice of days.
Please contact us for details of discounts for a stay of more than ten days.


Spring
Summer
Autumn
March April
May
Early Summer
June
Mid Summer
July August
Late Summer
September
October
€ 545
€ 575
€ 595
€ 675
€ 595
€ 545
We are pleased to accept payment in a number of other international currencies.
Please ask for rates and payment details. Click here to visit a currency converter site.
Click for booking information and to contact us

In pictures – Villa Dimitra, the hills of Lousakies, the town of Kissamos-Kastelli and surrounding areas.

This is a completely genuine farming and fishing area, hardly changed by the march of time or tourism despite being close to the world famous beaches at Fallasarna and extensive archaeological remains at Polyrinia and Kastelli.

The self-contained, lively and bustling town of Kissamos-Kastelli with its traditional mixture of general stores, shops, bars, restaurants and sea-front promenade cafes is just a five-minute ride away offering more sophisticated activities such as shopping, clubbing and dining-out. From the town harbour there is a twice-weekly, regular, full-size car ferry service to the island of Kithira, then Gytheio near Kalamata on the mainland and then on to the main Greek port of Piraeus/Athens.



Click for Car Hire

Contact us

Telephone us direct on +44 (0) 20 8123 4580 or +30 6976 763 654


If you are viewing this page outside its frame, please click here